AntiqueARTGarden Guide
Simple Basic Tips on Buying Antique & Vintage Paintings
Here is a basic guide..a tutor , so to speak, to help you decide on buying an old Antique or Vintage painting . These are tips I have learned through hands on experience in buying Art for myself and for re-sale. It may help you when you see a antique painting online or in person..to determine if it is "OLD " or new , what CONDITION the painting is in and if you should consider purchasing it, and IF you should buy a piece of ART or pass on it ? By OLD or ANTIQUE, I am referring mainly to Art made from 1800-1915's, Vintage Art was made from the 1920-1970's, and New Art would be from the 1980's to present day. Some people do classify art from the 1980's as Vintage...so bear that in mind. These are my classifications ...they are similar to most online. Also this is a guide from the United States, so for buyers in Europe..where you have the availability of Art that is hundreds of years older than the Art that America typically has..then you will have to bear with me as our art that is commonly on the market is from this time frame. Paintings that are 100's of years old..not simply a 100 + years old are rarer here.
1940's oil painting in original frame
I have been collecting and selling Antique & Vintage Art for over 24 years, I have been on Ebay for over 7 of those years. I have many people email me with some basic questions about old artwork. Here are the most common ones I get:
HOW CAN YOU TELL IF A PAINTING IS OLD ?
Dark back of canvas with crackling, evident sign of antique painting
The most important way you can tell..usually..is not the from the front of the canvas..but from the BACK..so turn it around gently and inspect it FIRST.
True darker color of back of canvas--late 1800's
This can be easy..or difficult... you have to see enough paintings to help with this question. Typically you can look first at the back of the painting..is the canvas stark white or is it yellowed with age ? If a back of a canvas is white or a light beige than it is NOT old . That is a dead giveaway. Typically the darker the canvas is, and the more crackle marks you see , even in the back canvas..are signs of some age on a piece. If it is a board..or hardboard painting..then if the board is black or very dark gray..then it is late 1800's to early 1900's. Other canvas boards are usually marked on the back with labels from the companies that produced them. Most of these labels are typical of the time period they are from. Like a Art Deco label , or a Retro -style label..all the way to the brand new canvas board sold today. So the lighter the board, usually the newer the painting is.

Big TIP...many importers and ' antique ' stores and shops sell REPRODUCTION oil paintings with a fake dark finish on the back of the canvas. It is more of a grey/tan finish or a wash of brown paint finish ...not like authentic antique back of canvases that I show you pictures of here.. Most store owners will tell you it is a repro if you ask them directly.

Let me show you some differences. I apologize for the fuzziness of some of these pictures , I copied and pasted from my own art buying guide off eBay. Then I added some extras.

New back of canvas, very white or light,.1990's thru the present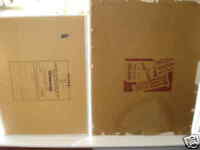 A light beige canvas back 1960-80's time frame above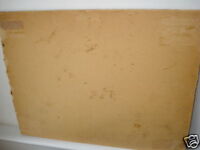 Vintage BACK of a board 1930-50's time frame typically, the darker the board the older it is usually

Antique Black Academy or Hardboard 1860-1915 time frame, typically has some warpage to it
Antique canvas and stretcher 1860-1910 time frame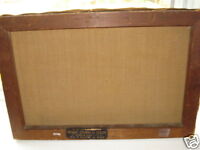 Old dark wood stretcher painting is unframed..late 1800's to before 1920
A few other ways to judge the age of a painting is by the stretcher ( wood it is nailed to ), at the back , and even the nails themselves . If the wood in the stretcher is a darker wood, that is a clue that it is older, especially when the wood is VERY dark.
Occasionally an older painting is reframed or cut-down from it's original size ( due to damage usually ), and then nailed to a new stretcher. If you see old nails, not bright shiny nails in the stretcher area..NOT where it is actually held into the frame..but where the painting is nailed to the wood, then it is usually an old painting . Sometimes if you see staples instead of nails it is definitely new..EXCEPT when an old canvas...unframed ..is put on a new stretcher . I am not trying to frustrate you in your shopping for antique paintings, but there are exceptions to a few of the general rules on how to gauge age. If you definitely see old wood on the stretcher..and old nails..and the back of the canvas is older and a darker tan..then VOILA'...it is almost always old.
WHAT CONDITION SHOULD A PAINTING BE IN FOR ME TO CONSIDER PURCHASING IT ?
This is a very subjective question..unless you are a restorer or are planning on having a painting restored, then you need to buy a painting in as good as condition as possible. Saying that , you do have to realize these are ANTIQUE or VINTAGE paintings. That means they will have some craquelure, ( Crazing or crackling lines in the paint ) , they may have a few paint chips off, they may have some small tears or rips.
This small of a tear and I will still purchase
A lot of small tears can be taped up with adhesive cloth tape from the back and be suitable for hanging still. If they are large tears, over 3-5 ins., then you may want it restored or pass on it. Also realize with old board paintings, because of the nature of paper/cardboard...it will warp with some age and it also scratches quite easily. If the painting is nice enough and the integrity of the Art is not jeopardized, then I usually buy it .
Some paintings I do pass on are the ones with extensive large flaking of paint , as I am not a restorer and that is the more expensive damage to restore. If you want to have a painting in perfect condition..please realize that is almost impossible for older pieces of Art...you could buy a reproduction painting or print if you want a perfect finish...but then the charm is removed from the Art that only comes with age and the passing of time.
HOW CAN I DECIDE IF I SHOULD BUY A PIECE OF ART ?
Ahh, a very hard question with an easy answer. My advice would be to buy a piece of Art if you really like it or love it. It does not matter whether it will ' go' with a room's colors, or if it matches your present style of decor. In time , many of us change styles of decorating ...but usually if we love a piece of Art..and I mean really LOVE it..then we love it for always. It will fit somewhere in your home or office if it ' calls ' to you. I do believe Art ' calls ' to us ..if we see a painting at a shop or online and we cannot stop thinking about it . Make that bid, make that offer . Make it yours.
Best Way in the World to Educate Yourself about ART
Please take the time to go to your local or regional ART MUSEUMS as they are the very best way to see what really good and great Art is . You have to see the best to recognize it when you are shopping. If there is ever any way in the world, while you are in the US...please spend as many hours in the Metropolitan Museum of Art in New York City as you can. Take the time to go to your local art museums or regional art museums as well, you will be awed and educated at the same time. Also go to some large antique shows and talk with some art dealers about antique art...most will answer your questions and show you examples of antique artwork if they are not busy with customers. Time with Art will teach you about it as well.
Good luck, hope this is helpful in some way to you,
Gina